Valedictorian/Salutatorian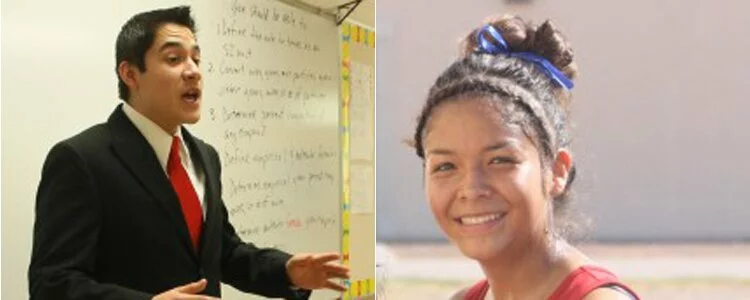 By: Kendra Vega
If being Top 10 of the senior class isn't hard enough, imagine competing for Valedictorian. Erick Romero and Lizette Gutierrez have been competing for Valedictorian the senior class, and it's been pretty close.
Romero knows that that he must always be focused.
"It's hard competing but it requires a lot of pressure on yourself," Romero said.
Romero has been taking Advance Placement classes throughout his high school career.
"I've taken a lot of AP classes like AP calculus, AP English and AP Chemistry," Romero said.
Students can have the tendency to not want to do their work or slack off, but Romero disciplines himself.
"I even get lazy, but I make myself do the work," Romero said.
If Romero is the seniors' class Valedictorian this year, he has to speak at graduation.
"If it's me, I'll be nervous, but I've improved a lot on public speaking," Romero said.
If Romero had the chance to speak to underclassmen, he would give advice to them.
"If a underclassmen wanted to be valedictorian, I would tell them it's hard to keep up with work, but it is possible," Romero said.
Romero's competition is Lizette Gutierrez.
Lizette Gutierrez is competing against Romero for valedictorian.
Guitierrez knows it's not easy to competing against other classmates.
"It has been a challenge to compete with other talented and determined students because they have their hearts into this fully," Gutierrez said.
Like Romero, she's also taken AP classes.
"I have taken classes like AP English, Biology and Government," Gutierrez said.
All four years of high school, Gutierrez always kept her focus in school.
"I stayed focused by concentrating on my long term goal of being valedictorian, and of course, you have to learn to set your priorities straight," Gutierrez said.
Gutierrez would also give underclassmen advice.
"If your heart is truly into being in top ten, work hard and don't give up," Gutierrez said.
Watching both these students grow is Ms. Ross. She has both students in her AP classes.
Ms. Ross rather not compare students. "Lizette and Romero are incredible students and I'm really proud to call them my babies," Ross said.
Ms.Ross admires how both of them work. "They both have such an incredible work ethic and over the year, I've seen them grow so much," Ross said.
Valedictorian or salutatorian, hard work pays off.
"Sometimes you'll have to decline some offers of fun, but know that the future holds much more rewarding things," Gutierrez said.